Calico Ridge
[wnt_search title="Search Homes" view="legacy" /]
Calico Ridge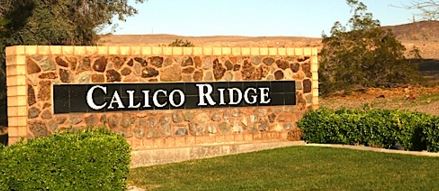 Calico Ridge is one of Henderson Nevadas premier custom home communities. Located in the Southeast side of Henderson, East of Boulder Highway, tucked away in a mountain ridge. Many homes in Calico Ridge have breathtaking views of the surrounding mountains and Las Vegas city. From the moment you go through the entrance, you will experience the views of the magnificent Las Vegas Strip, mountain ridges, and the Tuscany Golf Course. The community of Calico Ridge includes many lifestyle features and amenities for its residents. Features include an RV and boat parking lot for residents to rent and located minutes away from the Lake Mead National Park. Calico Ridge is unique community made up of many different types and sizes of custom homes, from very small single story homes to large modern architecture homes. You even have the opportunity to purchase a lot and build your own dream homes in Calico Ridge. Calico Ridge is close to many grocery stores, restaurants, convenience stores, hospitals and medical facilities. Calico Ridge is located in the City of Henderson and features very low property taxes of $.71 per $1000, which is on of the lowest in the nation. Search homes for sale in Calico Ridge in your price range and that meet your needs and wants. Call us today to make an appointment to view homes.
Schools Calico Ridge is Zoned for
There are many schools zoned for the Calico Ridge area so searching the Clark County School district website for zoning is the best advice we can give
Public Schools
Private and Charter Schools Close to Calico Ridge
Lake Mead Christian Academy
Pinecrest Academy
Calico Ridge Zip Codes
Calico Ridge is located in the Henderson Nevada Zip Code of 89011. If you are looking for homes for sale in 89011 or in the Calico Ridge area please search for homes below. You can also customize the search to find homes for sale in Henderson, Las Vegas, North Las Vegas, Boulder City and the surrounding areas. Call us today to make an appointment to view homes.
[wnt_grid keyid="1″ maptype="disabled" ownertype="all" paginated="true" sortoptions="true" maxresults="50″ search_mode="form" primarysearchtype="active" searchtype="subdivision" state="NV,UT,CA,AZ" min_price="70000″ max_price="1000000000″ listing_status="Active" subdivision="Calico Ridge Unit #2||Henderson,Calico Ridge Unit #1||Henderson,Calico Ridge Unit 5||Henderson,Calico Terrace Unit 1||Henderson,Calico Terrace Unit 3||Henderson,Calico Terrace Unit 4||Henderson,Calico Trails Unit #1||Henderson" /]
[wnt_grid keyid="1″ maptype="disabled" ownertype="all" paginated="true" sortoptions="true" maxresults="50″ search_mode="form" primarysearchtype="active" searchtype="subdivision" state="NV,UT,CA,AZ" min_price="0″ max_price="1000000000″ listing_status="Active" subdivision="Two Crows||Henderson,Two Crows Units 1-4 Amd||Henderson" /]