About Us
The Gonzales Team |
Keller Williams Southern Nevada |
Henderson and Las Vegas Real Estate Specialists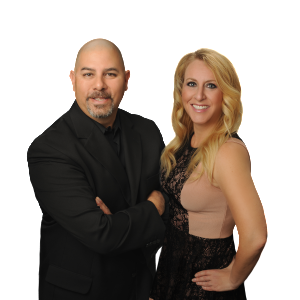 About The Gonzales Team
Integrity ♦ Trust ♦ Service
As a residential specialist, I sell homes in and around Henderson, Las Vegas, Boulder City and North Las Vegas.
Ernie and Leah Gonzales are the owners of The Gonzales Team in Henderson Nevada. Ernie and Leah have lived and raised two wonderful children in Henderson who have gone to the public schools, played in the Henderson parks, participated in the City of Henderson sports programs, and walked the many Henderson trails. We love Henderson and couldn't imagine living anywhere else in the world.
Leah has lived in the Las Vegas Valley since 1983 and in 1989 Leah and her mother moved into the very first master planned community, Green Valley, in Henderson, NV. "I could not imagine living anywhere else" Leah Gonzales adamantly says, "I have watched, Henderson, a suburb of Las Vegas grow from an industrial town to the #2 safest city to live in per Forbes website."
In 1989, fresh out of high school, Ernie joined the U.S. Army and served in the Desert Storm Initiative. The last few years of his military career, his duty station was in the Reserves in Henderson, NV. Prior to the Reserves, Ernie was a Military police investigator and served on the personal
detail to high-ranking military officers, international dignitaries, and government officials. "The military changed my life and I want to give back to as many Veterans as I can by helping them use their VA Loan Entitlement to be able to buy a home with no money down" Says Ernie.
In 1995 Leah started working in Real Estate with her mother and in 1999 Ernie and Leah founded the Gonzales Team  in Henderson, NV. Since The Gonzales Team has been in business they have successfully sold over 2500 homes. "What this translates to you our clients is that we have product knowledge of all major builders and local communities," says Ernie Gonzales. While working with 2500 clients The Gonzales Team has sharpened their real estate contract negotiating skills to help, you the client, sell your home fast, for top dollar with the least amount of hassle to you. "With this market knowledge we are able to train our sales team on the current market trends to help Sellers and Buyers with their wants and needs, protect Sellers and Buyers interests and to negotiate a winning real estate deal," says Leah Gonzales. In the last 10 years, the Las Vegas Market shifted and The Gonzales Team's business shifted to be more distressed and short sale listings. "We have helped many sellers, business owners, commercial investors and investors, out of financial hardships. Even with the shift in the market there are still many properties both residential and commercial under water so we are still helping owners out of financial hardship," says Leah Gonzales. The Gonzales Team prepared to help clients for the long run and stayed on top of the other markets in real estate and didn't just concentrate on the short sale department they developed  other departments specializing in traditional equity sales, luxury homes, commercial properties, relocation, Veterans home ownership and investing.
Gonzales Team MISSION:
To consistently provide a high level of customer service to all of our customers with a purposeful, dedicated, persistent, competitive, high-minded, top producing real estate team of professionals. Who are driven by technology and continuous education to stay on top of the market and to have a competitive edge for our client's.
Gonzales Team VISION:
Our vision for the Gonzales Team real estate company is to leave a legacy of leadership, abundance, and financial independence for our family, agents, and customers. Through this process, we will be helping everyone we come in contact with to achieve their dreams.
Gonzales Team VALUES:
Love and commitment to family and business
Gonzales Team  BELIEFS:
Win/Win – Everyone treated equally in all things we do
Dedication – diligence and persistence in all tasks
Service – committed to the growth of everyone we come in contact with
Communication – Open, honest and caring
Consistency – everyone treated the same
Competitive – stay on top of the market to have a competitive edge for all client's
Victorious – Success in all business ventures
Teamwork – Work together to achieve and go above and beyond everyone's goals
Energy – Positive Energy to propel us forward
"Henderson is our home. We live in Henderson, play in Henderson and work in Henderson" Says Ernie Gonzales.
Remember, I would like to earn your business and represent you when you are ready to buy or sell in the Henderson and Las Vegas area!