Cadence
Cadence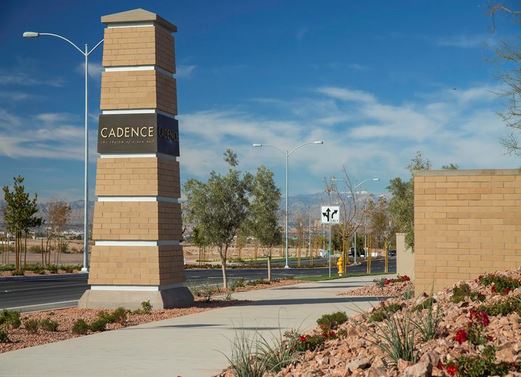 Cadence is a new active living 2200 acre master planned home community located East of Boulder Highway off of E. Lake Mead Parkway. Cadence will feature single family residences, Townhomes and Condominiums with approximately 13,500 homes when complete. Cadence has plans for many parks, community pool, walking trails, schools, and a sports complex to encourage an outdoor active lifestyle. The developers of Cadence are striving to blend a neighborhood of charm with just the right amount of urban features through amenities that homeowners are looking for today. They plan to accomplish this through plans to  stream free wifi to all public community areas for the residents use and even an innovative a bike share program to promote a healthy outdoor lifestyle. Cadence really wants to make a push for the, live where you work, lifestyle so it will also feature mixed-use commercial properties within the community and a private and charter school. Cadence will feature a very open landscape to blend in the with already existing vintage areas of Henderson. This will bring stability and an anchor to this area of Henderson. Cadence is close to many grocery stores, restaurants, convenience stores, hospitals and medical facilities. Cadence is also just minutes away from the popular recreation area of Lake Mead National Park. Cadence is located in the City of Henderson and features very low property taxes of $.71 per $1000, which is on of the lowest in the nation. Search homes for sale in Cadence in your price range and that meet your needs and
Builders in Cadence
Local builders who are developing state of the art developments within Cadence
Lennar
Woodside Homes
Ryland Homes
Richmond American Homes
Schools Cadence is Zoned for
There are many schools zoned for the Cadence area so searching the Clark County School district website for zoning is the best advice we can give
Public Schools
Private and Charter Schools:
Lake Mead Christian Academy
Pinecrest Academy
Cadence Zip Codes
Cadence is located in the Henderson Nevada Zip Code of 89011. If you are looking for homes for sale in 89011 zip code or in the Cadence area please search for homes below. You can also customize the search to find homes for sale in Henderson, Las Vegas, North Las Vegas, Boulder City and the surrounding areas. Call us today to make an appointment to view homes.