MacDonald Highlands
[wnt_search title="Search Homes" view="legacy" /]
MacDonald Highlands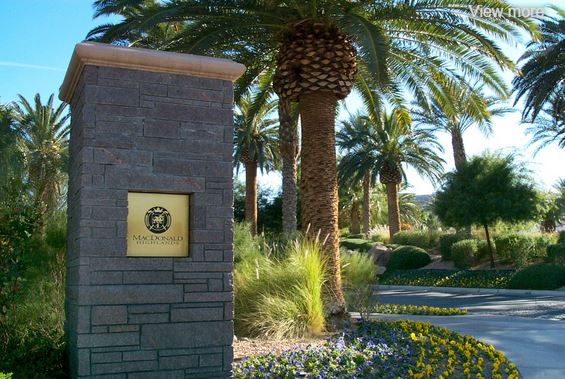 MacDonald Highlands is one of Henderson Nevada's premier communities. MacDonald Highlands is a luxury custom home community with the private Dragon Ridge Golf Club located South of the 215 Freeway tucked away in the McCullough mountains. Many of the MacDonald Highlands luxury custom homes feature modern technology, construction and all the features you can dream up. Such dream features include 11 car garages, pools under the house, homes built into the surrounding mountains, professional kitchens and high-end technology. New home lots are still available to build your own dream home if you can't find one that meets your dreams. Many of the luxury homes in MacDonald Highlands have breathtaking views of the surrounding mountains and Las Vegas city. From the moment you go through the guard gated entrance lined with a magnificent waterfall, you will experience manicured green lined streets with views of championship golf courses and mountains. The community of MacDonald Highlands includes many lifestyle features and amenities for its residents. Features include a championship golf course, parks, playgrounds, restaurant, and private country club. MacDonald Highlands is close to many grocery stores, restaurants, convenience stores, hospitals and medical facilities. MacDonald Highlands is located in the City of Henderson and features very low property taxes of $.71 per $1000, which is on of the lowest in the nation. Search homes for sale in MacDonald Highlands in your price range and that meet your needs and wants. Call us today to make an appointment to view homes.
Neighbors in MacDonald Highlands
Corporate Executives
Real Estate Developers
Professional Athletes
Actors/Actresses
Philanthropists
Politicians
Wall Mart Heiress – Nancy Walton Laurie
Schools MacDonald Highlands is Zoned for
There are many schools zoned for the MacDonald Highlands area so searching the Clark County School district website for zoning is the best advice we can give
Vandenberg Elementary
Twitchell Elementary
Bob Miller Middle School
Foothill High School
MacDonald Highlands Zip Codes
MacDonald Highlands is located in the Henderson Nevada Zip Codes of 89012. If you are looking for homes for sale in 89012 or in the MacDonald Highlands area please search for homes below. You can also customize the search to find homes for sale in Henderson, Las Vegas, North Las Vegas, Boulder City and the surrounding areas. Call us today to make an appointment to view homes.
[wnt_grid keyid="1″ maptype="disabled" ownertype="all" paginated="true" sortoptions="true" maxresults="50″ search_mode="form" primarysearchtype="active" searchtype="subdivision" state="NV" min_price="30000″ max_price="20000000″ listing_status="Active" subdivision="Macdonald Highlands Country Cl||Henderson,Macdonald Highlands Plan Area||Henderson,Macdonald Highlands Planning||Henderson,Macdonald Highlands Planning A||Henderson" /]