City of Henderson Nevada 2016 Real Estate Update
---
We work in the Henderson NV market every day helping buyers and Sellers; Don't you want a Realtor working for you who knows the market?
For more information about the City of Henderson Nevada and  a FREE search of houses for sale in your price range please contact Ernie Gonzales
We would love the opportunity to earn your business and represent you when you sell or buy in the Henderson and Las Vegas area.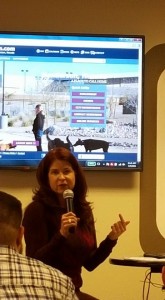 City of Henderson Councilwomen, Debra March
The Gonzales Team loves living in the city of Henderson Nevada and today we got to sit down with Councilwomen Debra March, Ward II, and learn even more great reasons to love Henderson. The City of Henderson Nevada has really been on a push for the play and work where you live, lifestyle and that is very evident in the new plans that have been laid out. New homes, new master planned communities, new business, new lifestyle and lots of new jobs, just a hint of what is coming up.
First a little history about Henderson. Henderson is a suburb or Las Vegas that 288,000 residents call home. Henderson is located in the South East area of the Las Vegas Valley, situated to the East of Las Vegas Blvd, South of Russell Road, North of Sloan Canyon National Conservation area and to the Lake Mead National Recreation center to the East.
The city of Henderson Nevada has been voted one of the Top 50 places to work and play by the Wall Street Journal, voted one of the best bicycle friendly communities, won national Gold Medal Award for Parks and Recreation, voted by Business Magazine as one of the best 100 Cities to live in America and one of the top 6 safest cities in America by CNN Money. Henderson has also become the hub for business in the Southwest with Vadatech, Barclaycard, Ocean Spray, Levi Strauss, and a few more planning on opening distribution centers in Henderson.
If you are a resident of Henderson or just thinking of purchasing a home in the city of Henderson Nevada there are some exciting new opportunities coming in the next few years. One of the biggest benefits is that Henderson has the lowest tax rate in Nevada and in the nation of $0.71 per $100 of assessed value.
Cadence is a new active living 2200 acre master planned home community located East of Boulder Highway off of E. Lake Mead Parkway. Cadence will feature single family residences, Townhomes and Condominiums with approximately 13,500 homes when complete. Cadence has plans for many parks, walking trails, schools and a sports complex. Cadence has thought of everything and has plans to  stream free wifi to all community areas for the residents use. It will even feature a bike share program to promote a healthy outdoor lifestyle. Cadence really wants to make a push for the live where you work lifestyle also so it will feature commercial properties within the community.
Lake Las Vegas is a master planned community that in the downturn almost went bankrupt.  The city of Henderson Nevada has worked with the developers to pull them out of bankruptcy and realign the SID/LIDS and the golf courses so that they can sustain themselves.
The Falls Golf course has been turned into a non-functioning golf course and is a green belt project. The other two golf courses, Reflection Bay and South Shore, are still operational. When the city stepped in several new projects have started to rebuild new homes.
Ascaya Luxury master planned community is back on track. If you live in Henderson or ever driven down Horizon Ridge I am sure you have seen the terraced earth on the McCullough mountains. That is Ascay, located above Roma Hills and MacDonald highlands. Currently there 8 multi-million dollar luxury homes under construction with over 300 lots available to build a custom home of your dreams. Most amazing unobstructed views of the Las Vegas Strip.  
The West Henderson project is located off of St. Rose Parkway, South of Seven Hills, West of the Henderson Executive Airport and East of Las Vegas Blvd. The city of Henderson has plans for large, commercial complex. The plans include business such as Costco, a FedEX Distribution center, large retail bakery distribution center and other big box stores that the City of Henderson is in negotiations with. There is also the option of developers to build mixed-use with residential above and commercial below to fit into the new culture of play and work where you live. The Sloan Canyon Conservation area is to the North of the major West Henderson project and the City of Henderson has plans to conserve the many treasured trails and petroglyphs found in this area. The plans are to have a paved road and visitor center leading into the conservation area to preserve for many more generations to come.  
Union Village is a 228-acre mixed-use healthcare sight at Galleria Drive and the 95/515 freeway. Near the Galleria Mall and Cowabunga Bay water park. Plans are for Union Village to have housing for seniors with shopping and medical facilities.The plans include many retail shops, restaurants, residential apartments, senior care centers, and a cultural center. Union Village will also feature a much needed new 200-bed hospital.
The city of Henderson Nevada has been working on the downtown redevelopment area for years and a new business will be opening on Water Street and Victory. The Lovelady Brewery broke ground in 2015 and should be opening in Spring of 2016. The brew master, Richard Lovelady, is the Chief Brewer for Gordon Biersch. The Lovelady Brewery will feature a taproom for tasting the local fare. The Henderson redevelopment area has many other opportunities for new business or developers. For the convenience of its residents, the City of Henderson Nevada has recently put together a website www.hendersonstrong.org that you can visit to see the planning document fo the next 20 years.
Many people relocating to Henderson often have concerns about the school district. With all the growth within the City of Henderson Nevada, there will be more school aged children and we have no funding to build new public schools until 2017. The City of Henderson Nevada has planned for this by luring more than 20 private and charter schools to our area. Charter schools offer a free opportunity to the public school system.  
With so many changes within our city, there is bound to be lots of road construction. To view the current road construction or to see what is planned in the future visit www.seeingorangenv.com and know where to avoid.
The mayor of the city of Henderson Nevada will be giving the state of the city address on February 3rd 2016 at the Green Valley Ranch casino and tickets can be purchased through the chamber of commerce for $45.

With so many great projects and new home opportunities it is a good time to buy in Henderson. Contact the Gonzales Team at [email protected] or 702-291-8126 to view any of the new home communities. The Gonzales Team loves living, playing and working in the city of Henderson Nevada and love that we can help others to experience the same.
[wnt_grid keyid="1″ title="Just Listed Henderson Homes" maptype="below" ownertype="all" paginated="true" sortoptions="true" maxresults="50″ search_mode="form" primarysearchtype="active" searchtype="city" state="NV,UT,CA,AZ" min_price="60000″ max_price="1000000000″ listing_status="Active" city="Henderson" newListings="1″ /]