Clark County School District
Find Real Estate by School Zone
Find the "Top Rated" Schools In Clark County
[wnt_featured keyid="1″ autoplay="true" direction="left" speed="5″ ownertype="agent_broker" maxresults="50″ /]
On the Great Schools map below find the top rated schools in Clark County Henderson, Las Vegas and North Las Vegas area. Below the Zoning maps find homes for sale that are zoned for schools and more information about each of the top rated Elementary schools, Middle schools, and High Schools.
The Clark County School District is divided into 13 geographic performance zones and each has an Accountability Report that you can view. The Accountability Report references test scores, demographics, student/teacher ratios, average class size, graduation rates, standards and much more. Most schools are operated on 9 months however due to overcrowding several schools run on a year-round schedule. You will be able to find the calendar for both the 9 month and year round schedule. This is something to consider when you are purchasing your new home.
Clark County School District Zoning Information and Accountability Reports with Test Scores
One of the most important aspects of buying a home can be what Clark County school it is zoned for. To find out school zoning information is easy. Just visit the Clark County School District website and search the address in the "Zoning Search". Find below the Clark County School District Zoning maps for Elementary Schools, Middle Schools, and High Schools.
The Clark County school district is the 7th largest school district in the nation and serves all of Clark County which includes Henderson, Las Vegas, North Las Vegas and many surrounding towns. As of September 2013 the Clark County School District serves 314,643 students. All homes in Henderson, Las Vegas, and North Las Vegas are subject to zoning by the Clark County school district and children must attend the schools they are zoned for. The school district does change the zoning as the population grows in the communities to ensure smaller class sizes. However, there are opportunities to request a zone variance by submitting a open enrollment form to the desired school you would like your children to attend. If there is availability at the desired school your child may receive the variance although it is not guaranteed. The Clark County school district also provides alternative opportunities for children to explore other areas of study by attending Career and Technical Academies, Magnet Schools, Charter Schools, Virtual Schools, home schooling and other online options.
Search Top Rated Clark County Schools in Henderson, NV
Search Top Rated Clark County Schools in  Las Vegas, NV and North Las Vegas, NV
Clark County School Zoning maps for Elementary schools, Middle schools and High Schools
Click on images below to view a larger image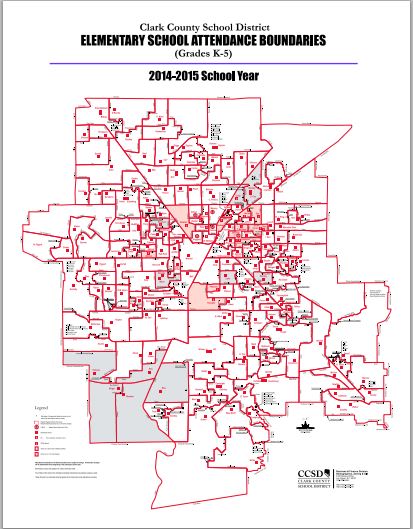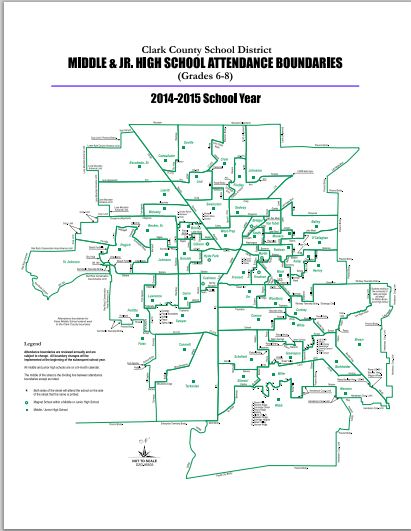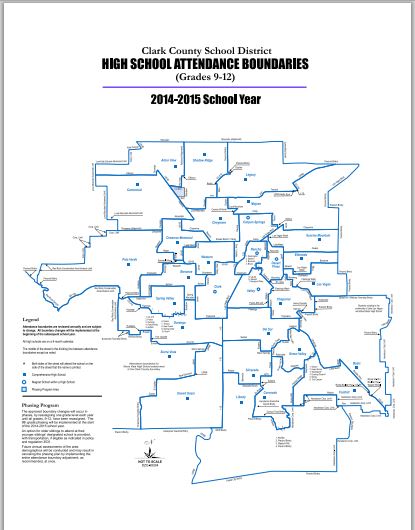 Find Homes for Sale Zoned for Clark County School District Elementary Schools:
School
Phone
Map
Adams, Kirk ES
(702) 799-8800
Fogg/Stewart
Adcock, O K ES
(702) 799-4185
Newcomer/Westcliff
Alamo, Tony ES
(702) 799-2590
Eldorado/Torrey Pines
Allen, Dean LaMar ES
(702) 799-4580
Parkside Way/Park Vista Dr.
Antonello, Lee ES
(702) 799-8380
Tropical/Camino El Norte
Bailey, Sister Robert Joseph ES
(702) 799-7510
Bartlett, Selma F ES
(702) 799-5750
Wigwam/Valle Verde
Bass, John C ES
(702) 799-2220
Cactus/Haven
Batterman, Kathy L ES
(702) 799-1920
Haulapai/Quail
Beatty, John R ES
(702) 799-5700
Pebble/Hidden Palms
Beckley, Will ES
(702) 799-7700
E Desert Inn/Pecos
Bell, Rex ES
(702) 799-5910
Sahara/Valley View
Bendorf, Patricia A ES
(702) 799-4440
Durango/Spring Mtn.
Bennett, William G ES
(702) 298-3378
Needles Hwy/Desert Dr.
Bilbray, James ES
(702) 799-4646
Brent Lane/Tee Pee
Blue Diamond ES
(702) 875-4226
Diamond/Castalia
Bonner, John W ES
(702) 799-6050
Town Center/Anasazi
Booker, Kermit R Sr ES
(702) 799-4720
Martin L. King/Carey
Bowler, Grant ES
(702) 398-3233
Whipple/169 Hwy
Bowler, Joseph L ES
(702) 346-1900
Tropical/Camino El Norte
Bozarth, Henry & Evelyn ES
(702) 799-6608
Bracken, Walter ES
(702) 799-7095
Eastern/Searles
Brookman, Eileen B ES
(702) 799-7250
Mt. Hood/Washington
Bruner, Lucile ES
(702) 799-0620
Alexander/Allen
Bryan, Richard H ES
(702) 799-1460
Buffalo/Lake Mead
Bryan, Roger M ES
(702) 799-1270
Flamingo/Cimarron
Bunker, Berkeley L ES
(702) 799-3420
Torrey Pines/Carey
Cahlan, Marion ES
(702) 799-7103
Donna/Carey
Cambeiro, Arturo ES
(702) 799-1700
Washington/Harris
Carl, Kay ES
(702) 799-6650
El Campo Grande/Bradley
Carson, Kit ES
(702) 799-7113
Lake Mead/D St.
Cartwright, Roberta C ES
(702) 799-1350
Silverado Ranch/Maryland
Christensen, M J ES
(702) 799-4390
W. Desert Inn/Fort Apache
Conners, Eileen ES
(702) 799-1402
W. Ann Rd/Alpine Crest Way
Cortez, Manuel J ES
(702) 799-2180
Lamb/Owens
Cox, Clyde C ES
(702) 799-4990
Pecos/Gowan
Cox, David M ES
(702) 799-5730
Pecos/Robindale
Cozine, Steve ES
(702) 799-0690
Hammer/Simmons
Craig, Lois ES
(702) 799-4910
Cheyenne/Pecos
Crestwood ES
(702) 799-7890
Eastern/Franklin
Culley, Paul E ES
(702) 799-4800
Washington/Jones
Cunningham, Cynthia ES
(702) 799-8780
Flamingo/Nellis
Dailey, Jack ES
(702) 799-5690
Hacienda/Spencer
Darnell, Marshall C ES
(702) 799-6630
Centennial Pkwy/El Capitan Way
Dearing, Laura ES
(702) 799-7710
Boulder Hwy/Desert Inn
Decker, C H ES
(702) 799-5920
Torrey Pines/Flamingo
Derfelt, Herbert A ES
(702) 799-4370
Oakey/Durango
Deskin, Ruthe ES
(702) 799-4600
Craig/Buffalo
Detwiler, Ollie ES
(702) 799-1830
Lake Mead/Simmons
Diaz, Ruben P ES
(702) 799-2120
Dickens, D L ES
(702) 799-3878
Diskin, P A ES
(702) 799-5930
Rainbow/Flamingo
Dondero, Harvey N ES
(702) 799-5940
Torrey Pines/Harmon
Dooley, John ES
(702) 799-8060
Magic Way/Equestrian
Duncan, Ruby ES
(702) 799-7100
Earl, Ira J ES
(702) 799-7310
Washington/Marion
Earl, Marion B ES
(702) 799-8181
Jones/Hacienda
Edwards, Elbert ES
(702) 799-7320
Lamb/Stewart
Eisenberg, Dorothy ES
(702) 799-4680
Buffalo/Gowan
Elizondo, Raul P ES
(702) 799-1730
Lone Mountain/Commerce
Ferron, William E ES
(702) 799-7720
Flamingo/Mountain Vista
Fine, Mark L ES
(702) 799-6882
Fitzgerald, H P ES
(702) 799-0600
Revere/Carey
Fong, Wing and Lilly ES
(702) 799-4890
Jones/Lake Mead
Forbuss, Robert L ES
(702) 799-6840
French, Doris ES
(702) 799-7730
Pecos/Hacienda
Frias, Charles & Phyllis ES
(702) 799-2298
Broken Top/Salernes
Fyfe, Ruth ES
(702) 799-4191
Valley View/Bonanza
Galloway, Fay ES
(702) 799-8920
Pacific/Greenway
Garehime, Edith ES
(702) 799-6000
Alexander/Fort Apache
Gehring, Roger ES
(702) 799-6899
Maryland Pkwy/Richmar
Gibson, James ES
(702) 799-8730
Valle Verde/Silver Springs
Gilbert, CVT ES
(702) 799-4730
Carey/Simmons
Givens, Linda Rankin ES
(702) 799-1430
Parkside Way/Park Vista Dr
Goldfarb, Daniel ES
(702) 799-1550
Charleston/Sloan
Goodsprings ES
(702) 874-1378
I-15/Kingston Rd
Goolsby, Judy and John L ES
(702) 799-2520
W. Desert Inn/215
Goynes, Theron H and Naomi D ES
(702) 799-1770
Allen/Deer Springs
Gragson, Oran K ES
(702) 799-7330
Bonanza/Pecos
Gray, R Guild ES
(702) 799-5950
Torrey Pines/Penwood
Griffith, E W ES
(702) 799-4200
Valley View/Alta
Guy, Addeliar ES
(702) 799-3150
Decatur/Lone Mountain
Hancock, Doris ES
(702) 799-4205
Decatur/Oakey
Harmon, Harley ES
(702) 799-7740
Hacienda/Nellis
Harris, George E ES
(702) 799-7750
Twain/Sandhill
Hayden, Don E ES
(702) 799-3870
Goldfield/Rome
Hayes, Keith C & Karen W ES
(702) 799-6030
Fort Apache/Twain
Heard, Lomie G ES
(702) 799-4920
Craig/Nellis
Heckethorn, Howard E ES
(702) 799-6690
Thom/Whispering Sands
Herr, Helen ES
(702) 799-8860
Hollywood/Carey
Herron, Fay ES
(702) 799-7123
Carey/Pecos
Hewetson, Halle ES
(702) 799-7896
Bonanza/Bruce
Hickey, Liliam Lujan ES
(702) 799-1899
Carey Ave/Los Feliz St.
Hill, Charlotte ES
(702) 799-5720
Warm Springs/Bermuda
Hinman, Edna F ES
(702) 799-8990
Boulder Hwy/Merlayne
Hoggard, Mabel ES
(702) 799-4740
Bonanza/Tonopah
Hollingsworth, Howard E ES
(702) 799-1660
Bruce/Fremont
Hummel, John R ES
(702) 799-6810
Bermuda/Silverado Ranch Blvd
Indian Springs ES
(702) 799-0932
Skyroad/Clark
Iverson, Mervin ES
(702) 799-7260
Hollywood/Charleston
Jacobson, Walter ES
(702) 799-4320
Durango/Cimarron
Jeffers, Jay W ES
(702) 799-2100
Carey/Clifford
Jydstrup, Helen ES
(702) 799-8140
Jones/Hacienda
Kahre, Marc ES
(702) 799-4660
Buffalo/Cheyenne
Katz, Edythe & Lloyd ES
(702) 799-4330
Tenaya/Vegas Dr.
Keller, Charlotte & Jerry ES
(702) 799-2140
Stewart/Christy Lane
Kelly, Matt ES
(702) 799-4750
Martin L. King/Owens
Kesterson, Lorna J ES
(702) 799-6300
Gibson/American Pacific
Kim, Frank ES
(702) 799-5990
Buffalo/Spring Valley
King, Jr, Martin Luther ES
(702) 799-7390
Carey/Christy
King, Martha P ES
(702) 799-8260
Adams/Avenue B
Lake, Robert E ES
(702) 799-5530
Sahara/Maryland
Lamping, Frank ES
(702) 799-1330
Eastern/Summit Grove
Lincoln ES
(702) 799-7133
Cheyenne/Pecos
Long, Walter V ES
(702) 799-7456
Sahara/Walnut
Lowman, Mary & Zel ES
(702) 799-4930
Craig/Nellis
Lummis, William ES
(702) 799-4380
Rampart/W. Lake Mead
Lundy, Earl B. ES
(702) 872-5438
Kyle Canyon Rd/157 Hwy
Lunt, Robert ES
(702) 799-8360
Eastern/Washington
Lynch, Ann ES
(702) 799-8820
Lake Mead/Nellis
Mack, Nate ES
(702) 799-7760
Warm Springs/Green Valley Pkwy
Mackey, Jo ES
(702) 799-7139
Carey/Commerce
Manch, J E ES
(702) 799-4900
Craig/Nellis
Martinez, Reynaldo ES
(702) 799-3800
Lake Mead/I-15
May, Ernest ES
(702) 799-4690
Torrey Pines/Ann
McCall, Quannah ES
(702) 799-7149
Carey/Civic Center
McCaw, Gordon ES
(702) 799-8930
Van Wagenen/Pacific
McDoniel, Estes M ES
(702) 799-7788
Valle Verde/Sunset
McMillan, James B ES
(702) 799-4350
Lake Mead/Rainbow
McWilliams, J T ES
(702) 799-4770
Decatur/Vegas Dr
Mendoza, John F ES
(702) 799-8680
Sahara/Sloan
Miller, Sandy Searles ES
(702) 799-8830
Valle Verde/Windmill
Mitchell, Andrew ES
(702) 799-8280
Ave B/Fifth
Moore, William K ES
(702) 799-3270
Lamb/Bonanza
Morrow, Sue H ES
(702) 799-3550
Magic Way/Featherwood
Mountain View ES
(702) 799-7350
Lake Mead/Nellis
Neal, Joseph M ES
(702) 799-2200
Rainbow/Ann
Newton, Ulis ES
(702) 799-0500
Greenway/Horizon
O'Roarke, Thomas ES
(702) 799-6600
Ober, D'Vorre and Hal ES
(702) 799-6077
Desert Inn/Town Center
Paradise Professional Development ES
(702) 799-5660
Flamingo/Paradise
Park, John S ES
(702) 799-7904
Charleston/Maryland
Parson, Claude & Stella ES
(702) 799-4530
Decatur/Alexander
Perkins, Dr Claude G ES
(702) 799-1805
Perkins, Ute ES
(702) 864-2444
Henry/168 Hwy
Petersen, Dean ES
(702) 799-1120
Cambridge/Twain
Piggott, Clarence ES
(702) 799-4450
Fort Apache/Charleston
Pittman, Vail ES
(702) 799-4213
Jones/Washington
Priest, Richard C ES
(702) 799-6200
Fuselier/San Miguel
Red Rock ES
(702) 799-4223
Jones/Charleston
Reed, Doris M ES
(702) 799-4777
Jones/Carey
Reedom, Carolyn S ES
(702) 799-5702
Reid, Harry ES
(702) 297-1224
Michael Wendell Wy/164 Hwy
Rhodes, Betsy ES
(702) 799-3450
Buffalo/Elkhorn
Ries, Aldeane Comito ES
(702) 799-1240
LeBaron/Lindell
Roberts, Aggie ES
(702) 799-1320
Windmill/Pecos
Rogers, Lucille S ES
(702) 799-6870
Dewey/El Capitan
Ronnow, C C ES
(702) 799-7159
Washington/Pecos
Ronzone, Bertha ES
(702) 799-4780
Lake Mead/Decatur
Roundy, Dr C Owen ES
(702) 799-5890
Rowe, Lewis E ES
(702) 799-5540
Eastern/Harmon
Rundle, Richard ES
(702) 799-7380
Nellis/Stewart
Sandy Valley ES
(702) 723-5344
Pearl/Sandy Valley Rd
Scherkenbach, William & Mary ES
(702) 799-3401
Brent Lane/Tee Pee Lane
Schorr, Steve ES
(702) 799-1380
Placid/Starr
Scott, Jesse D ES
(702) 799-1766
Sewell, C T ES
(702) 799-8940
Lake Mead/Ash
Simmons, Eva G ES
(702) 799-1891
Coleman St/Tropical Pkwy
Smalley, James E & A Rae ES
(702) 799-8090
Smith, Hal ES
(702) 799-3700
Desert Inn/Nellis
Smith, Helen M ES
(702) 799-4300
Buffalo/Westcliff
Snyder, William E ES
(702) 799-3750
Colorado/Lamb
Squires, C P ES
(702) 799-7169
Bruce/Lake Mead
Stanford ES
(702) 799-7272
Nellis/Washington
Staton, Ethel W ES
(702) 799-6720
Summerlin Pkwy/N-I-215
Steele, Judith ES
(702) 799-2201
Eldorado/Rainbow
Stuckey, Evelyn ES
(702) 799-2274
Sunrise Acres ES
(702) 799-7912
Eastern/Charleston
Tanaka, Wayne N ES
(702) 799-2504
Maule Ave/Quarterhorse Rd
Tarr, Sheila R ES
(702) 799-6710
Gilmore/Tee Pee
Tartan, John ES
(702) 799-4701
Statz/Tropical Pkwy
Tate, Myrtle ES
(702) 799-7360
Lamb/Carey
Taylor, Glen C ES
(702) 799-6892
Siena Heights Dr/Southfork Channel
Taylor, Robert L ES
(702) 799-8950
Major/Boulder Hwy
Thiriot, Joseph E ES
(702) 799-2550
Harmon/Duneville
Thomas, Ruby S ES
(702) 799-5550
Twain/Maryland
Thompson, Sandra L ES
(702) 799-3430
Thorpe, Jim ES
(702) 799-0740
Twain/Maryland
Tobler, R E ES
(702) 799-4500
Cheyenne/Rainbow
Tomiyasu, Bill Y ES
(702) 799-7770
Sandhill/Hacienda
Treem, Harriet ES
(702) 799-8760
Russell/Galleria
Triggs, Vincent L ES
(702) 799-1890
Twin Lakes ES
(702) 799-4790
Washington/Rancho
Twitchell, Neil C ES
(702) 799-6860
Chapata/Lake Mead
Ullom, J M ES
(702) 799-7780
Tropicana/Nellis
Vanderburg, John ES
(702) 799-0540
Lake Mead/Green Valley
Vegas Verdes ES
(702) 799-5960
Valley View/Oakey
Virgin Valley ES
(702) 346-5761
Walker, J Marlan ES
(702) 799-0570
Scholar/San Bruno
Wallin, Shirley & Bill ES
(702) 799-5776
Ward, Gene ES
(702) 799-5650
Hacienda/Spencer
Ward, Kitty McDonough ES
(702) 799-4501
Bradley/Horse
Warren, Rose ES
(702) 799-4233
Torrey Pines/Charleston
Wasden, Howard ES
(702) 799-4239
Charleston/Rancho
Watson, Fredric W ES
(702) 799-7040
Commerce/Tropical Pkwy
Wengert, Cyril ES
(702) 799-8600
Nellis/Sahara
West Preparatory Institute School for Academic Excellence at Charles I West
(702) 799-3120
Whitney ES
(702) 799-7790
Tropicana/Boulder Hwy
Wiener, Louis Jr ES
(702) 799-5760
Warm Springs/Bermuda
Wilhelm, Elizabeth ES
(702) 799-1750
Martin L. King/Alexander
Williams, Tom ES
(702) 799-7179
Lake Mead/Pecos
Williams, Wendell ES
(702) 799-4760
Martin L. King/Washington
Wolfe, Eva ES
(702) 799-1860
Decatur/Lone Mountain
Wolff, Elise L ES
(702) 799-2230
St Rose Pkwy/Seven Hills Dr
Woolley, Gwendolyn ES
(702) 799-4970
Alexander/Pecos
Wright, William V ES
(702) 799-5701
Lisa Ln/Richmar Ave
Wynn, Elaine ES
(702) 799-8160
Jones/Pennwood
Clark County School District Middle Schools
School
Phone
Map
Bailey, Dr. William H MS
(702) 799-4811
Carey Ave/Hollywood Blvd
Becker, Ernest MS
(702) 799-4460
W. Lake Mead/Hills Center
Bridger, Jim MS
(702) 799-7185
Carey/Civic Center
Brinley, J Harold MS
(702) 799-4550
Carey/Jones
Brown, B Mahlon JHS
(702) 799-8900
Warm Springs/Pueblo
Burkholder, Lyal MS
(702) 799-8080
Victory/Van Wagenen
Cadwallader, Ralph MS
(702) 799-6692
Conough/Elkhorn
Canarelli, Lawrence & Heidi MS
(702) 799-1340
Robindale/Torrey Pines
Cannon, Helen C JHS
(702) 799-5600
Russell/Eastern
Cashman, James MS
(702) 799-5880
Decatur/Desert Inn
Cortney, Francis H JHS
(702) 799-2400
Hacienda/Hillsborough
Cram, Brian & Teri MS
(702) 799-7020
Deer Springs/Clayton
Escobedo, Edmundo Sr MS
(702) 799-4560
Faiss, Wilbur & Theresa MS
(702) 799-6850
Fertitta, Victoria MS
(702) 799-1900
Grand Canyon/Mesa Vista
Findlay, Clifford O MS
(702) 799-3160
Tropical/Commerce
Fremont, John C Professional Development MS
(702) 799-5558
Maryland/Sahara
Garrett, Elton M JHS
(702) 799-8290
Adams/Ave. G
Garside, Frank F JHS
(702) 799-4245
Flamingo/Torrey Pines
Gibson, Robert O MS
(702) 799-4700
Decatur/Washington
Greenspun, Barbara & Hank JHS
(702) 799-0920
Valle Verde/Windmill
Guinn, Kenny C MS
(702) 799-5900
Sahara/Torrey Pines
Harney, Kathleen & Tim MS
(702) 799-3240
Charleston/Hollywood
Hughes, Charles Arthur MS
(702) 346-3250
Hwy 170/Hwy 144
Hyde Park MS
(702) 799-4260
Charleston/Valley View
Indian Springs MS
(702) 799-0932
400 Sky Rd.
Johnson, Walter JHS
(702) 799-4480
Buffalo/Alta
Johnston, Carroll M MS
(702) 799-7001
Lawrence/Tropical Pkwy
Keller, Duane D MS
(702) 799-3220
Stewart/Hollywood
Knudson, K O MS
(702) 799-7470
Eastern/Sahara
Lawrence, Clifford J JHS
(702) 799-2540
Durango/Flamingo
Leavitt, Justice Myron MS
(702) 799-4699
Ann Road/Campbell
Lied MS
(702) 799-4620
Ann/Jones
Lyon, Mack MS
(702) 397-8610
Anderson/Thomas
Mack, Jerome MS
(702) 799-2005
Karen/Lamb
Mannion, Jack & Terry MS
(702) 799-3020
Greenway Rd/Paradise Hills Dr
Martin, Roy W MS
(702) 799-7922
Stewart/Eastern
Miller, Bob MS
(702) 799-2260
Cambridge St/Cozy Hill
Molasky, Irwin & Susan JHS
(702) 799-3400
Buffalo/Alexander
Monaco, Mario C & JoAnne MS
(702) 799-3670
Lake Mead Blvd/Lamont
Nevada Learning Academy at CCSD
702-855-8435
O'Callaghan, Mike MS
(702) 799-7340
Hollywood/Owens
Orr, William E MS
(702) 799-5573
Twain/Maryland
Robison, Dell H MS
(702) 799-7300
Nellis/Marion
Rogich, Sig MS
(702) 799-6040
West Charleston/Town Center
Saville, Anthony MS
(702) 799-3460
Grand Teton/Torrey Pines
Sawyer, Grant MS
(702) 799-5980
Russell/Rainbow
Schofield, Jack Lund MS
(702) 799-2290
Wigwam/Spencer
Sedway, Marvin M MS
(702) 799-3880
Gowan/Engelstadt
Silvestri, Charles JHS
(702) 799-2240
Silverado Ranch/Maryland
Smith, J D MS
(702) 799-7080
Bruce/Lake Mead
Swainston, Theron L MS
(702) 799-4860
Alexander/Allen
Tarkanian, Lois & Jerry MS
(702) 799-6801
Pyle/Westwind
Von Tobel, Ed MS
(702) 799-7280
Carey/Pecos
Webb, Del E MS
(702) 799-1305
Anthem Pkwy/Reunion Dr
White, Thurman MS
(702) 799-0777
Galleria/Sunset
Woodbury, C W MS
(702) 799-7660
Harmon/Sandhill
Clark County School District High Schools
[wnt_grid keyid="1″ maptype="disabled" ownertype="all" paginated="true" sortoptions="true" maxresults="50″ search_mode="form" primarysearchtype="active" searchtype="city" state="NV" min_price="200000″ max_price="400000″ listing_status="Active" city="Henderson" single_family="y" /]