Steps To Evicting Squatters
---
"Squatters can no longer be in control, because evicting squatters just got easier!"  exclaimed Ernie Gonzales. "For years we have had to play by the squatters rules to ensure that they got out of a property and not do unnecessary damage, now we have the upper hand." Most real estate agents and homeowners have not learned the steps to evicting squatters since it is such new legislation.
Who Can Benefit From Steps to Evicting Squatters
When you are buying a home or selling a home it is naturally a roller coaster ride and if you are dealing with squatters it can be even more stressful. We thank you for taking the time to read our blog and hope it can be of assistance to anyone who is in need of evicting squatters from a property. This is good information to have whether you are buying home or selling a home.  
How We Used The New Bill To Evict Squatters in Our Listing
The Gonzales Team recently listed a home of an active duty military person who has been deployed out of Las Vegas area for many years. The US Army Sergeant was deployed to Iraq in 2008 for a total of 3 tours and has not been able to come back to Las Vegas to check on his home. Unfortunately, in the meantime squatters took advantage of the Army Sergeant's vacant home and moved in using it for their drug abuse. 
The US Army Sergeant contacted the Gonzales Team to help him with the sale of his home. The Sergeant found the Gonzales Team's information through the Veterans Association of Real Estate Professionals. He was still out of state so our first step was to visit the property for the seller to see the condition. When we arrived we were surprised by squatters who claimed that they had a lease from the owner to rent the property. They gave a sob story that they gave a security deposit and that they have been paying rent to someone for two months and had a year lease. Which is a common response from a squatter. Ernie requested the squatters to produce the lease to prove that they had the legal right to be in the home. Squatters love to make fake lease agreements or give excuses as to why they can't show the lease. Such as, so and so has it and they are not here now, we lost it, we never got a copy of the lease but gave our money. Most have done this many times and they know the game because in the past at this point, whether they had a lease or not, the seller would have to offer the squatters cash for keys to get them to move out. Usually costing the seller an additional $500 to $4000, so that the squatters get out and don't do anymore damage to the home. Before the new bill was passed this was just a civil offense and now it is a criminal offense so the police can get involved and we have other resources to help our clients and ultimately save them thousands of dollars. We immediately  contacted the North Las Vegas Code Enforcement department  who arranged to meet Ernie and serve the tenants with an eviction notice to be out of the property within 48 hours. The squatters claimed to the Code Enforcement Officer also that they had a lease. He explained to them that the bottom line is the owner hasn't given them permission to be in the property, so if they want to make a police report on the person  who falsely rented them the property and took their security deposit they can go to the police department. He told Ernie that since October he has evicted hundreds of squatters who have all claimed that they have a lease and gave them the same advice and not one has made a police report.  At the 48 hour mark the Code Enforcement Officer, a North Las Vegas Police Officer and Ernie went to the property to confirm that the squatters were out. SURPRISE! They were still in the property. Since it is so new most squatters have not heard of the new bill and didn't know that the laws changed to make squatting a crime instead of a civil offense. The North Las Vegas Police evicted the squatters immediately and they had to leave with everything they could carry right then and there. We secured the property by boarding up windows, doors and changed all the locks. The squatters were also given 21 days to contact Ernie Gonzales to make an appointment to get the rest of their belongings out of the home. They were instructed to not to re-enter the home and if they did they would be arrested for unlawful occupancy. Ernie made property visits  everyday to ensure that the squatters didn't  break into the home. On a visit Ernie found one of the female squatters and her children in the backyard of the property. The two young children were dirty, hungry and had no water in the over 100 degree Las Vegas summer weather. The mother was drugged up and sleeping on a mattress she had dragged into the backyard. Several of the other squatters had broke the sliding glass door to get back into the property. Ernie contacted the police and they arrived right away and arrested the squatters for unlawful entry in the home. We were able to get the squatters out of the property so that we could get it cleaned up and list it for sale. So the Sergeant and his family could move on with their lives.
Evicting Squatters
Squatters have been an open sore to the  real estate community for many years. Squatters have been getting away with it for so long they have learned many tricks to make it difficult on owners and real estate agents. The local legislature finally took notice and in May of 2015 new legislation was passed. The legislation took effect in October 2015 and created  new crimes such as housebreaking and unlawful occupancy allowing the local municipalities the right to arrest squatters. This has made evicting squatters easier for homeowners. Repeat offenders can even be charged with a felony and can receive up to 4 years in jail. We in the real estate community are excited that the cities of Las Vegas, Henderson and North Las Vegas have answered our requests for help. For many years homeowners were told it was civil matter and we had to deal with it themselves. With  the city municipalities unable to help with evicting squatters. During this time squatters learned if they claimed that they had a lease, or even claimed they had a lease, that they would receive $500- $4000 for cash for keys to move out. This new law is saving homeowners and banks money. Since this new law took effect in October 2015 there has been several arrests and cases brought on squatters and homeowners are benefiting from the help.
With awareness and encouragement from the media and police calls reporting squatting have risen. This will eventually result in squatters learning that this is a crime that they will not be able to get away with any more.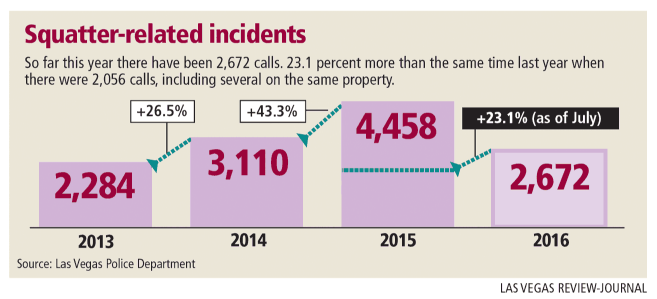 Steps to Evicting Squatters
Confirm that there are squatters in the property, by talking to neighbors, postman, and/or knock on door.
Call city Code Enforcement to report that there are squatters in the property
Meet City Code Enforcement at property and inform squatters they are in property unlawfully
Code Enforcement will give them a deadline to vacate property
Return with Code Enforcement and Police to confirm have vacated property, If they refuse or return police will arrest
Change locks and secure all doors and windows in property so squatters do not return
Return to the property everyday for a property check to confirm squatters did not break back into property
Call the Gonzales Team if You need Help in this matter
Note these are the steps we used to evict squatters there could be more or less steps involved when you go throught the process. We sure hope it is the latter and it takes less steps for you.
Contact Information To Report Squatters
Code Enforcement for City of Henderson
http://www.cityofhenderson.com/code-enforcement/home
702-267-3950 Code Enforcement Office
Sgt. Kirk Moore – Handles squatting for the Henderson Police Department
Code Enforcement for City of Las Vegas
702-229-6615 – Code Enforcement Office
Code Enforcement for City of North Las Vegas
http://www.cityofnorthlasvegas.com/departments/community_development_and_compliance/code_enforcement.php
702-633-1677 – Code Enforcement Office
Referrance article-  Las Vegas Review-Journal here
http://www.reviewjournal.com/business/new-nevada-law-helping-crackdown-squatters
 
[wnt_grid keyid="1″ maptype="below" ownertype="all" paginated="true" sortoptions="true" maxresults="25″ search_mode="form" primarysearchtype="active" searchtype="subdivision" state="NV" min_price="30000″ max_price="20000000″ listing_status="Active" subdivision="Green Valley Ranch||Henderson,Green Valley Ranch Parcel 41A||Henderson" one_story="Y" /]